Ithomiinae
Mechanitis sp.
But
which
one? My friend Ben had guessed it was
Mechanitis menapis
. The closest I could come to in that regard was
Mechanitis menapis occasiva
which is very very similar if not for a few differences in the patterns.
When I sent the photo to Kim Garwood (the women is legend) she told me something very interesting (in general) about ID'ing butterflies in exhibits. She told me that it was hard to do so because in the butterfly farms where these come from they often experiment (for lack of better wording) and get weird hybrids.
So now I'm wondering if this butterfly could also be a hybrid between 2 somethings (
Mechanitis sp
. definitely)? My other question is are Mechanitis sexually dimorphic? During research on these I have wondered greatly on this.......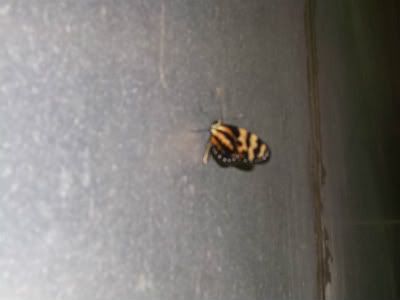 Little fuzzy but the underside of this bad boy. *^^*
Is there anyway to know for sure exactly what this is? Both photos taken at NHM Butterfly Exhibit 10-08-11